It's no conspiracy: Jeffree Star and Shane Dawson broke the internet with the launch of their makeup collab, the Conspiracy Collection!
Fans were glossed with outrage on Friday, November 1, because the website JeffreeStarCosmetics.com crashed just minutes after the hotly-anticipated line dropped. Naturally, potential customers took to Twitter to vent about it.
The collection features an array of lippies, accessories, makeup bags, clothes, and eyeshadow palettes, including a full 18-shade Conspiracy Palette (featuring a range of neutrals, pastels, and neons in shimmer and velvet finishes) for $52, and a 9-shade palette for $28.
Related: Is Jeffree Now Feuding With Fellow Beauty Vlogger Tati Westbrook?
Fans who desired the entire collection — which comes with lip gloss, lip balm, and a bag — could get it in a bundle for $210.
At least, that was the plan!
According to reports, the site just wasn't prepared to handle the amount of traffic that came its way when the Conspiracy Collection dropped at 1 p.m. EST, resulting in a flood of frustrated tweets from fans and critics alike: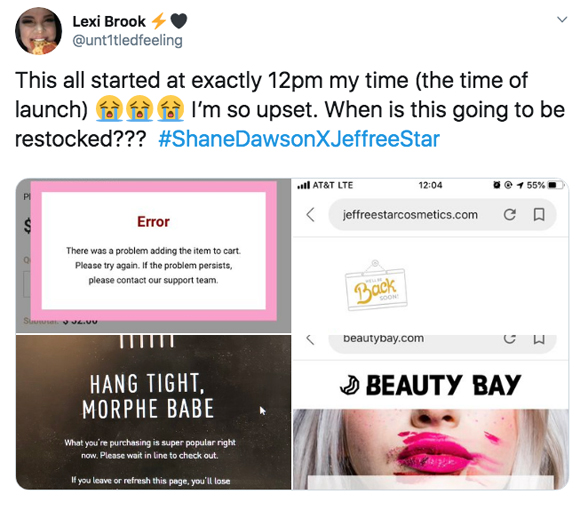 (c) Twitter
Me knowing that I'm not getting the bundle even though I've been on here since launch.. #ShaneDawsonXJeffreeStar pic.twitter.com/00m3YavAtX
— Mark Shelton (@marquain7111) November 1, 2019
#ShaneDawsonXJeffreeStareveryone refreshing the Jeffree star cosmetics website to see then it's STILL down: pic.twitter.com/72SvVEBWhD
— 𝘺𝘢 𝘣𝘪𝘵𝘤𝘩 𝘵𝘺𝘭𝘦𝘳 ♡ (@bocasrings) November 1, 2019
When JSC site crashes the second it launches so you go over to morphe, morphe makes you wait in line for 20 minutes all to tell you your cart is empty and everything's sold out. So you go back to JS and the site is still crashing #ShaneDawsonXJeffreeStar pic.twitter.com/IZA81xweyF
— Erica Jay 🦋 (@therealericajay) November 1, 2019
#ShaneDawsonXJeffreeStarJeffree star cosmetics has been down for a whole ass 40 mins. bruh. all I wanted was some god damn lip balm. pic.twitter.com/xwDu8WR8ZC
— 𝘺𝘢 𝘣𝘪𝘵𝘤𝘩 𝘵𝘺𝘭𝘦𝘳 ♡ (@bocasrings) November 1, 2019
Others offered a more sympathetic response:
lmao imagine @JeffreeStar on the phone with his web host right now 🤣
poor guy that's got to be so stressful #ShanexJeffree pic.twitter.com/NcNn2PYODk
— Dustin Dailey ♏️ (@ThreeDailey) November 1, 2019
Me at school right now trying not to get caught by my teachers but also quietly screaming while waiting in line for 30 minutes for the Shane x Jeffree pallet @JeffreeStar @shanedawson pic.twitter.com/DnoTI5cdrf
— babydoll (@babydol32495834) November 1, 2019
Meanwhile, the few lucky fans who managed to complete their orders were celebrating: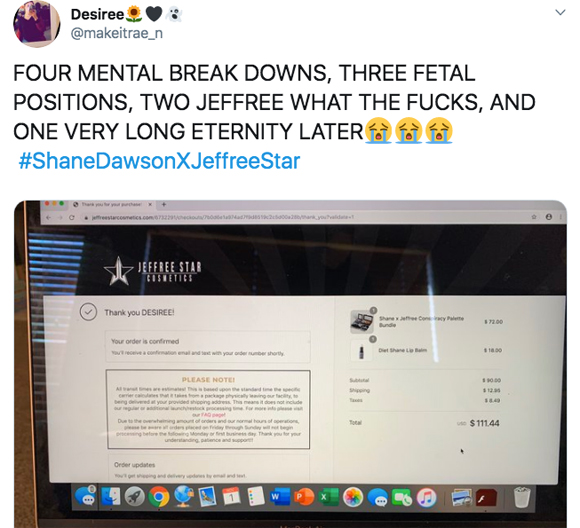 (c) Twitter
Dawson eventually took to Twitter to apologize to his frustrated fans.
Related: Jeffree Reignites Feud With Kylie Jenner Over Her 'Money Grab' Skincare Line!
He wrote:
"i'm so sorry for the wait. i cant even enjoy the launch cause i feel so sad that you guys are waiting and having issues with the site. but i PROMISE it's not jeffrees team. they had everything in place for this and have been working 24/7 on this for months."
Despite its rough start, Dawson's makeup launch could generate a pretty penny.
According to executives of Morphe, a company that has partnered to distribute palettes with YouTubers like Jaclyn Hill, James Charles, Star, and now Dawson, the Conspiracy palette could earn $17.5 million through in-store revenue sales and another $17.5 million on Star's website.
Related: Shane & Ryland Adams Are ENGAGED — & Some Think It's A PR Distraction!
Morphe also got some heat from fans the day the collection dropped, with many calling out the brand's website for selling out of most of the products within the first few minutes of them launching. Now, fans fans of Star and Dawson's collection are praying there will be a re-stock soon.
Clearly, the demand is high!
Are U planning on purchasing a palette from the Conspiracy Collection, Perezcious readers?
[Image via YouTube]
The post Jeffree Star's Website Crashes After Launch Of His Makeup Collab With Shane Dawson — & Fans Are PISSED! appeared first on Perez Hilton.
Read more: perezhilton.com